~ From the Smokehouse ~
Welcome to our small retail store where you are greeted by our friendly, helpful staff! In the summer you can try a tasty sample of our Smoke House Sausages made from Beef, Pork, Bison, Elk, Yak and Reindeer meats. We are known and loved for our Smoked Brown Sugar Cured Hams, Bacon, Canadian Bacon and Pork Chops. We carry farm fresh eggs.
In our retail freezer, we carry fresh frozen Alaska Grown Beef and Pork, individual cuts including Steaks, Roasts and Ground Meats. We carry Bison, Elk, Yak and Reindeer meats when available.
From our Sausage Kitchen, we make fresh Breakfast and Italian Sausage, as well as Reindeer Breakfast and Fresh Buffalo and Pork Bratwursts.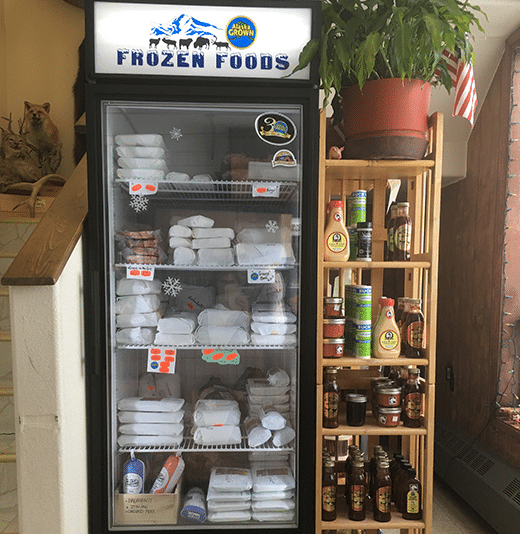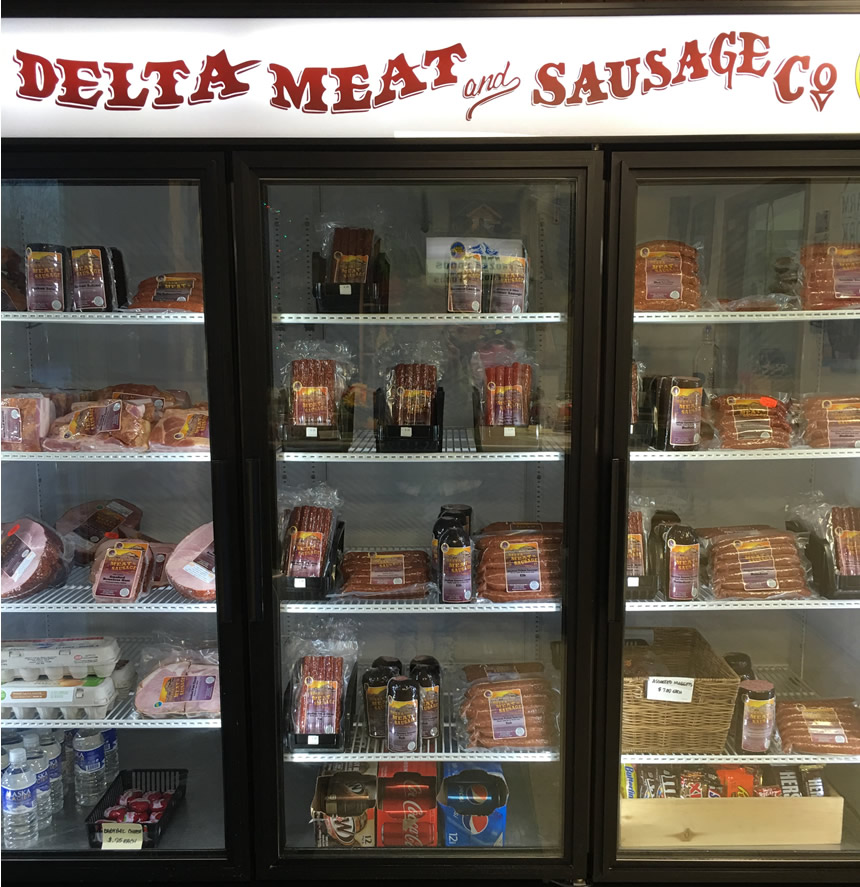 From The Smoke House
"Old Fashion Quality Meats"
Bone-In Hams $5.90 lb /$5.75 lb.
Boneless Ham $6.80 lb /$6.65 lb.
Small Boneless Hams $7.85 lb.
Canadian Bacon $10.50 lb.
Slab Bacon w/rind $7.97 lb.
Alaska Grown Bacon $8.65 lb.
Bacon Ends & Pieces $5.75 lb.
Smoked Hocks $4.40 lb.
Smoked Beef Tongue $6.50 lb.
Smoked Pork Chops $8.50 lb.
Polish, Hot Links/Smokies $8.80 lb.
Salami $8.90 lb
Jalapeno & Olive Summer $9.00 lb.
Smoked Snack Sticks $8.00 pkg.
Land Jaegers $8.00 pkg.
Exotic Smoked Meats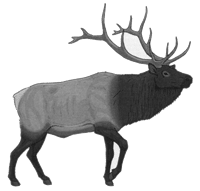 Buffalo/Reindeer/Elk/Yak
Summer Sausage $8.90 lb.
Kielbasa $9.75 lb.
Exotic Snack Sticks $8.00 pkg.
Fresh Meats
Ground Beef $ 6.30 lb.
Extra Lean Beef $ 7.30 lb.
Ground Pork $ 5.75 lb.
Ground Buffalo, Elk or Yak Market
Breakfast or Italian pkg.
$ 6.65 lb.
Brat, Italian, Breakfast Links
$ 8.05 lb.
Reindeer Breakfast Links $ 9.45 lb.
Pork Belly $ 5.20 lb.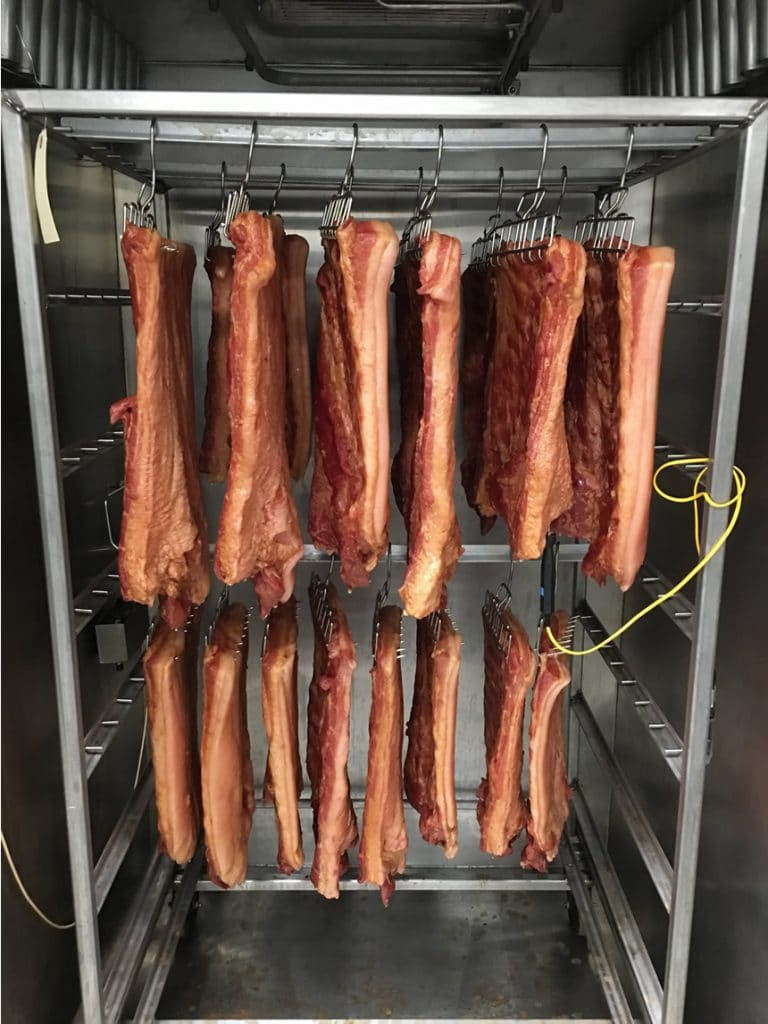 Smoked Bacon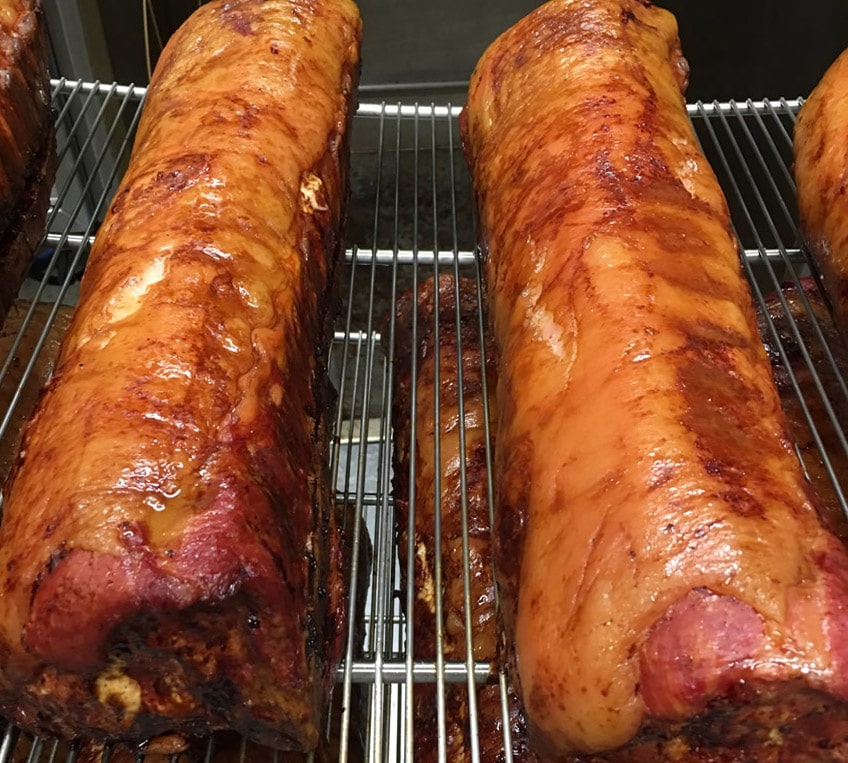 Smoked Loin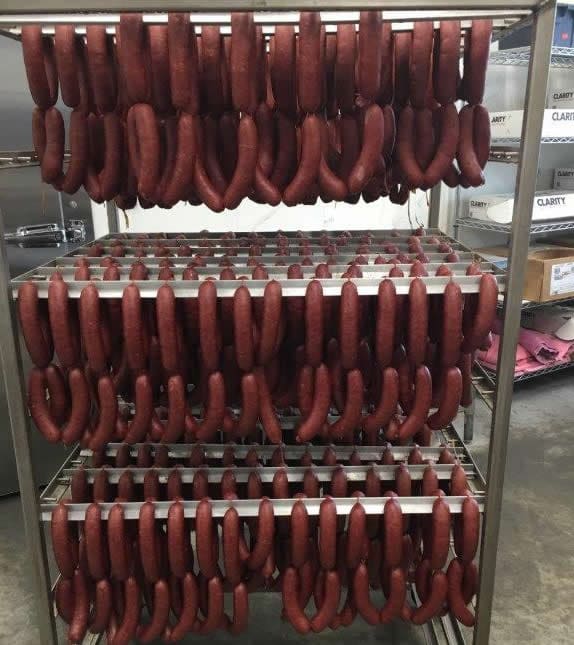 Smoked Links
Custom Orders: We would be happy to make up a specialty gift box from our Smoked Products. You may choose from the different variety of sausages, or we can help select for you.
All Prices Subject to Change Without Notice.