Who We Are and What We Believe
Our Alaska grown meats are wholesome, healthy and affordable. You can taste the freshness! Our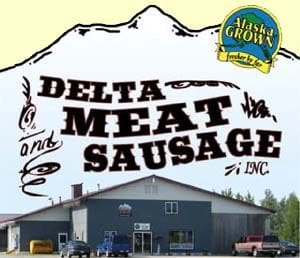 Galloway X beef are grown without hormones, steroids or antibiotics and finished on lush dried grass, naturally lower in calories and saturated fats. You can't get pork fresher, raised from birth to finish right here on our family farm in Delta Junction. At Delta Meat, we believe in one simple principal: deliver only the highest quality of healthy meats to our customers. That means they contain no artificial ingredients, no artificial coloring, no chemical preservatives and no added moisture. Our animals are humanly raised and slaughtered.
We're committed to providing our customers high quality service, whether it is professional game processing or products we sell, we stand behind our work. Our standards are the highest for sanitation and guarantee compliance with USDA regulations to ensure that every product you enjoy is safe and wholesome.
We are located at Mile 1413 Alaska Highway with a small retail store out front to purchase our locally grown and smoked products. Our showcase displays our hams, bacon, and a variety of the exotic sausages as well as farm fresh eggs. A sample of the delicious meats and sausages can be enjoyed during the tourist season from our tray. We can make up gift baskets from our specialty meats.
In the fall we cater to a great group of hunters who faithfully bring in each years bounty for processing. Game meat can be turned into a variety of delicious sausages as well as their processed meat to fill the freezer for the anticipated long winter ahead.
We offer airport delivery service for our out of state hunters to have their processed meat returned. And free delivery to our Fairbanks customers to meet at a central location. We have extended hours during tourist season.
Please call our toll free number within Alaska at 1-800-794-4206 or 907-895-4006 or e-mail us at